cultural bridges to justice will design a sexism / gender justice program to meet the specific needs and objectives of your organization. Whether a single, one day session, a keynote or a multi-day or multi-year series, it will be your goals, audience, time-frame and budget that will guide the design of the workshop.
Link to any of the specific programs listed for more information regarding typical design, objectives, outcomes and logistics.
This interactive workshop offers people of any gender an historical and political framework, common language, and will probe the reality and daily experiences of sexism, male privilege and internalized sexism. Both inter-personal and institutional sexism will be examined along with the interconnections between sexism and heterosexism. Participants will identify relevant strategies and tools for interrupting sexism.
This workshop offers men an opportunity to work with other men to identify, examine and acknowledge their daily experience of male privilege in a supportive, yet challenging environment. Male supremist foundations of U. S. society and institutions will be uncovered and probed.
Interactive activities will illuminate the impact of a lifetime of sexist, misogynist and male supremist messages on males in U. S. society, and men's responsibility to dismantle sexism.
Internalized sexism is defined as the involuntary belief by girls and women that the lies, stereotypes and myths about girls and women, that are delivered to everyone in a sexist society, are true.
Women and girls are taught to act out the lies and stereotypes, doubting themselves and other females (sometimes called "horizontal hostility.") For the sexist system to be maintained and passed on to the next generation, we all must believe the messages (lies and stereotypes) to some degree, and collude with sexism by performing our assigned roles.
This workshop encourages women to recognize and examine the harmful impact of a lifetime of sexist messages on their own self image, as well as their attitudes toward other women. Women's organizations, in particular, must take conscious action to recognize, acknowledge and interrupt internalized sexism / internalized misogyny as it affects individual women and the organization as a whole.
A retreat can be designed for women who work for an organization or coalition, or one specifically for women in leadership roles. These retreats provide an opportunity for women to reflect, recharge and renew their commitment to their group's mission. In the company of other women, participants will engage in interactive activities to stimulate personal renewal of their energy, passion and commitment.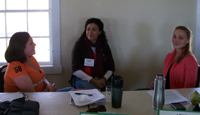 There is so much denial that sexism still exists! Thank you for acknowledging its profound impact and for acknowledging the work we do every day..

—Rape crisis center advocate