Included here are several topic areas facilitated by cultural bridges to justice. Each includes a brief overview, plus suggested objectives and outcomes for trainings on this issue.
All cultural bridges to justice programs and keynotes are driven by your objectives and outcomes. We do not present "cookie-cutter" programs, but rather design each training to meet YOUR objectives, YOUR audience and YOUR budget.
Communities, universities and agencies across the country are recognizing that their missions are unattainable until they become multicultural and challenge all forms of personal and institutional oppression. Leaders are seeking training, best practice models, and guidance for preparing community leaders, social service providers, educators, students, emergency responders, all citizens, for the challenge and promise of diversity in the years ahead.
Eliminating all forms of oppression requires committed leaders who are trained in uncompromising analysis and skillful implementation of anti-oppressive, organizational and community change.
cultural bridges to justice offers interactive workshops, keynote addresses, and other programs, focused on racism, sexism, homophobia and transphobia, ableism and the interconnections of oppressions for non-profit groups and coalitions. Since 1986, hundreds of social change groups, social service agencies, faith-based, university, and community groups, plus emergency service organizations have sponsored justice training for their staff, boards, allied partners, stakeholders and communities. (client list)
Our workshop facilitators (our trainers) are committed to creating safe, open and honest environments to encourage participants to get "below the surface" of issues of prejudice and oppression. A wide range of training techniques, compelling exercises, plus small group work is used to keep the workshop active and interactive. The training team is chosen to bring gender, color and other diversity and relevant skills to your group. Every participant will have the opportunity to reflect, discuss and challenge issues individually, as a member of a team and in the large group. Workshops offer tools and time for identifying and strategizing essential changes in your organization or community.
Whether creating a one day workshop, a multi-day Justice Institute, or a week long Training of Trainers, our ultimate objective is to work ourselves out of a job – and to leave any organization with whom we work with a higher level of organizational capacity and self-sufficiency in continuing their work toward justice.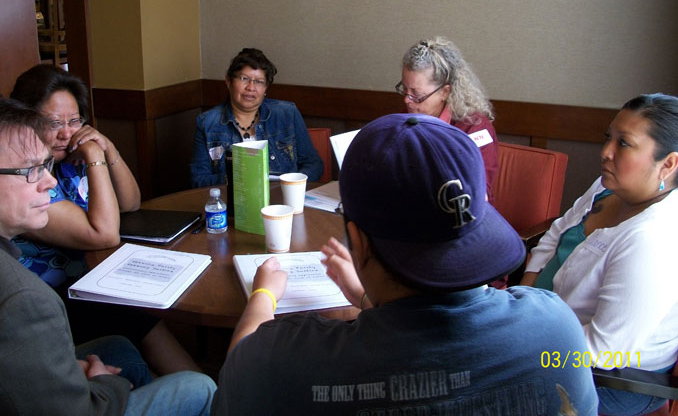 You leave not the same person you came…


—Justice Institute participant
The one feeling I will take away with me is that from this moment on, if I do not do anything about racism, I am allowing it to be done in my name.


—Workshop Participant
OK – just generally great facilitation. Both of you were ingenious with time – and really assisted the group in staying focused. Now, not only will I speak to this at work, it gave me energy to infuse all our mission progress with consciousness raising.


—Regional YWCA participant
There is difference and there is power; and who holds the power decides the meaning of the difference.


—June Jordan